In 2015/16, more than 38,200 people started an apprenticeship in the North East and over 500,000 nationally, taking the total number of those working as an apprentice to 900,000. With the government recently announcing an apprenticeship levy for Spring 2017, there's never been a better time to recruit an apprentice. So, whether you're a young person looking to kick start a career, or a Teesside business searching for the next generation of skilled workers, an apprenticeship could be for you.
YOUNG PEOPLE
For young people, an apprenticeship offers a unique opportunity to earn while you learn – a big appeal for school leavers and those leaving sixth form or college. However, it's not just the financial aspect that can set apprenticeships apart from further education. Apprenticeships offer the opportunity to build life and social skills, work in new environments and deal with a variety of people.
While in the past apprenticeship were often tied to trade based roles such as plumbing, electrical and joinery, recent years have seen a growth in opportunities in industries such as business admin, health care and web design. In fact in 2015/16, apprenticeships in three sectors (Business, Administration & Law, Health, Public Services & Care and Retail & Commercial Enterprise) took up nearly three quarters (71%) of new starters. And unknown to many, virtually every industry with the exception of just a few can be accessed via an apprenticeship. They can also act as an avenue into careers, which otherwise could take years of higher education and significant personal cost to enter.
In terms of gender split, 53% of apprenticeships starts in 2015/16 were by women, and 47% by men – firmly quashing the outdated myth of apprenticeships being purely trade based, male opportunities.
With differing levels of training leading to full time employment, there's many opportunities for apprentices to develop and grow their career within a business. Serving as a great opportunity to enter the world of work in a difficult economic climate, apprenticeships provide the skills you need for your chosen career, while also leading to nationally recognised qualifications.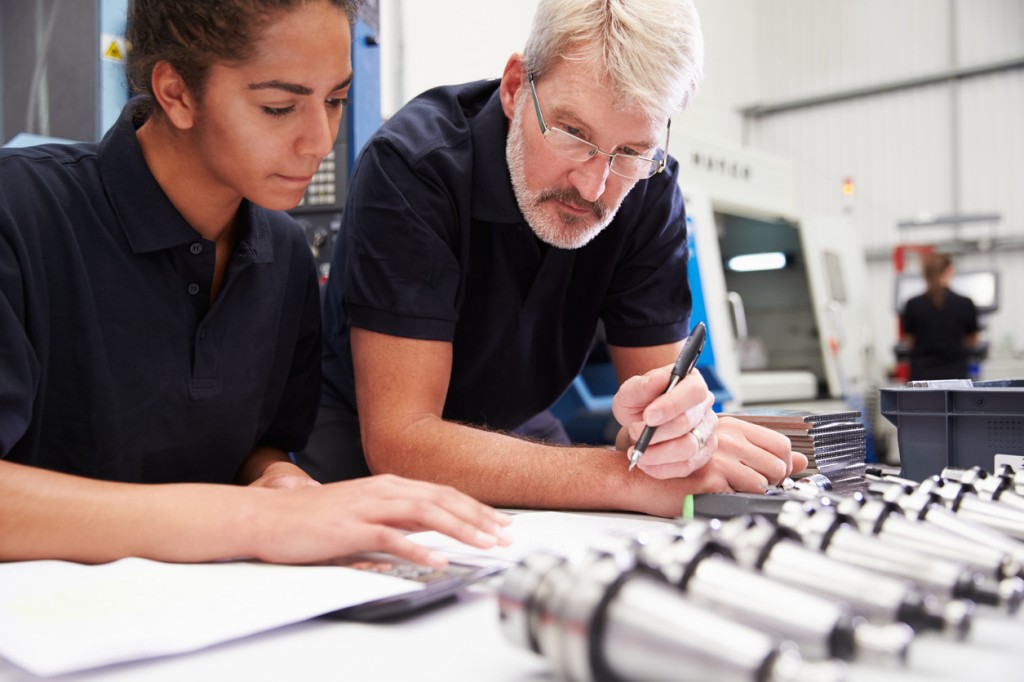 BUSINESSES
For businesses, apprenticeships offer the opportunity to fine tune skills and build workforces for the future. An eagerness to impress, high motivation and commitment to the business are common traits for apprentices, largely due to a more career orientated thinking and approach. This in turn leads to an increased likelihood of staying with the company for longer, reducing possible future recruitment costs.
Apprentices often bring a fresh approach and a positive attitude into the workplace, which can have a knock-on effect to existing staff. By undertaking an apprenticeship, they are showing a willingness to learn while bringing new ideas and fresh insight into the company. Modern day apprentices can be fast learners too, especially when it comes to IT and computer based practices – this is largely due to them being millennials who've grown up with technologies, such as the internet and ever changing advancements.
It's a proven fact apprentices increase productivity and impact on bottom line, and with grants also available, staffing costs and wages may only be mildly impacted. Businesses will be guided throughout the apprenticeship process in full, with learning providers following a structured framework, specific to the industry, business and role.
If you're a Teesside or North East business and want to offer an apprenticeship, get in touch – through our pre-employment scheme, we're more than happy to work with you to tailor schemes to meet requirements. Similarly if you have an apprenticeship vacancy, get in touch and we can help advertise via our opportunities page. 

Take a look at our opportunities page for the latest apprenticeship vacancies. 
Back to News