A group of students from the Tees Valley have had their eyes opened to new career possibilities thanks to a recent voyage with a local foundation.
The High Tide Foundation, which aims to expand young people's horizons to the area's diverse career opportunities through real life work experience, took 12 students from the region's academies to the Netherlands on its annual Port to Port visit to understand the roles and possibilities available in their hometowns.
General Manager for the foundation Lauren Bywater said: "Through our work experience programmes, we discovered that many students lacked confidence and independence, not wanting to venture outside their hometown for work, and often turning down opportunities we provided.
"This made me want to demonstrate how many business people travel frequently for work without having to move home – a very common occurrence particularly within maritime – which is how the Port to Port visit developed."
The five-day excursion included visits to local businesses, towns and factories to help the students from Hillsview, Unity City and Nunthorpe academies understand the variety of jobs available as well as experiencing other cultures.
Lauren said: "We are so grateful for our partners P&O Ferries, Tata Steel, Loodswezen and Huntsman, which facilitated some eye-opening experiences from a first sea voyage to watching steel slabs being made.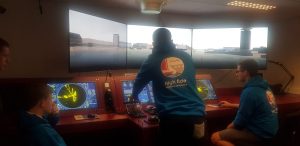 "These experiences, which also included a stay in a 13th Century castle, helped the students to come out of their shells, try new things and support each other, coming back completely different from the apprehensive people we took with us."
Wendy De Vos, communications co-ordinator at Huntsman Holland, said: "Being able to inspire the next generation is so important, which is why we work with High Tide to give young people the chance to just see the many great opportunities our industry can offer – it can be difficult to imagine so we show them!"
Layla Agiadis, a pupil at Unity City Academy, said: "I didn't understand the jobs that could be done without leaving Teesside as I always thought I'd have to move to a big city. It was amazing to see how far you could travel for your job and has helped me to think about what I'd like to do with my future career."
Due to the success of the Port to Port programme, the High Tide Foundation is now looking to expand it having had offers from ports across the UK, Europe and even Africa, enabling more young people to experience the possibilities offered from the Tees Valley.
Instagram: @hightidefoundation
Twitter: @hightidetees
Back to News