We don't have to hold out for one as Jerry Hopkinson, COO of our corporate partner PD Ports is our hero.
Jerry set himself the challenge of completing THREE ironman challenges in 12 months, with the Great North Run thrown in there for good measure, all in aid of the High Tide Foundation.
An Ironman comprises three elements; a 3.8km open water swim, a 180km bike ride and a 42km run to finish off. Each of these legs is done in sequence over a period of 8 hours for the elite professionals and 18 hours for the slowest members of the field.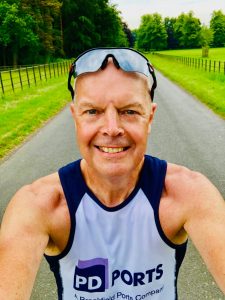 Training all year, alongside his work with PD Ports, as Director of the Tees Valley Combined Authority LEP and the United Kingdom Major Ports Group, plus his work as Trustee of the High Tide Foundation, Jerry demonstrated exactly what hard work and determination can achieve. An ethos that lies at the heart of everything we do.
He said: "That moment when you walk through the door, greet your loved ones, kick off your shoes, unpack your case, hang away your clothes and savour the aroma of dinner is when it counts – because you have to make a choice.
"The choice is do I accept that I've earned the right to kick back, having been working and travelling the last 16 hours? The right to have a hot shower, put my feet up, shoot the breeze with Davi, read the paper on the iPad, listen to some music, chill out. Or do I have to get my head into motivated mode, put my gear on and get the training done?
Those moments when you make that clear choice between comfort and discomfort are what defines you because those choices are at the root of achieving your goals and, if there is anything of merit in the achievement of being able to say that you have finished events such as the one I'm going to do in a few days' time, it's found in those clear choices.
I don't hesitate.
I pull on my running gear and head off for an intervals session by the light of a head torch along the banks of the Tyne. I look up at the sky which is alive with stars and a full moon."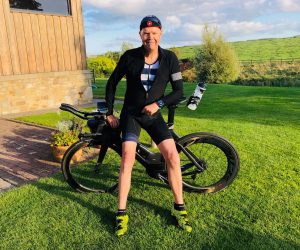 After months of training in the early – and late – hours, freezing cold sea swims, injuries, damaged equipment, cutting out coffee and battling the elements, Jerry completed his third and final Ironman, all 141 miles of it, in just over 13 hours on September 21, bringing his incredible year of endurance and determination to an end.
We're honoured to have such a powerhouse of local business and physical strength representing us and inspiring the next generation. We just wonder what he's going to do next year…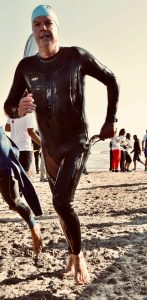 Find out more about his journey, and donate, by visiting the JustGiving page at: https://www.justgiving.com/fundraising/jerry-hopkinson3
Back to News