Northern plays a vital role in the North of England by connecting tens of thousands of people to work, leisure, education and more every day. As well as being inspired and determined to transform rail travel, Northern are determined to support organisations such as High Tide, which develop and shape the future workforce in our region. As a result Northern have become the latest business to offer industry insights and work experience to young people in the Tees Valley.
Without the support of our industry members, we would be unable to deliver our unique programmes and work experience. These insights from businesses help to increase aspirations and employment opportunities.
Arriva Rail North Limited became the new rail operator for Northern in April 2016, marking the start of a nine-year franchise that will transform travel through a £1billion investment in the largest rail network outside London. There are many exciting benefits to come as a result of this investment during the next 9 years. These include brand new state-of-the-art trains with a top speed of 100mph, more frequent services, improved customer facilities, more security on stations and extended opening hours in many stations. In the North East this will mean that by 2020 the local rail service will be unrecognisable to the one that you see today.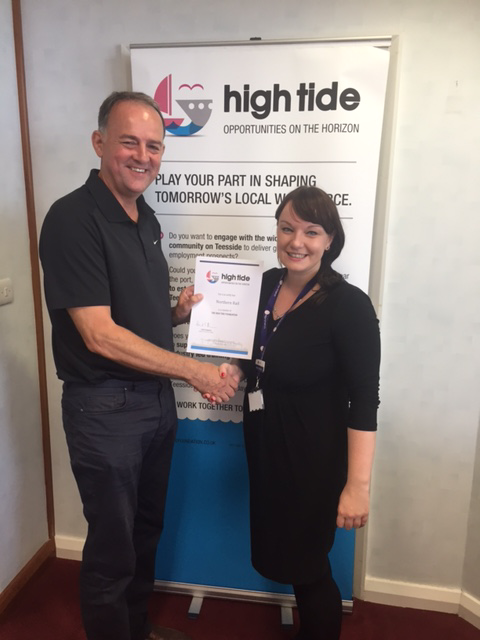 The company has over 5000 employees companywide, with 650 in the North East region. Northern Rail services call at over 500 stations and Northern manage 464 of these. They also have offices and depots in many locations in the North East including Newcastle, Middlesbrough, Hartlepool, Carlisle, Sunderland & Darlington.
It is important to Northern to support local communities, and equally important to support young people in the region. The train operating company is keen to work closely with High Tide and will be sharing railway experience by providing school talks, work experience and mentoring to young people in Teesside. They join the likes of Barclays, Boots, Casper, EDF and P&O Ferries, in helping us deliver schemes and programmes to secondary schools and colleges from our region.
If you're interested in joining High Tide as an industry member, or would like more information on the programmes we offer and opportunities we provide, please get in touch.
Back to News