Prepare to be bowled over by our latest news! Durham County Cricket Club have become the latest organisation to pledge its support to High Tide and young people in Teesside, and in the process have become our 100th industry member!
Through the club's Foundation, Durham CCC interact with the community, inspiring and motivating young people through the power of cricket and sport. The Foundation aims to provide this support by using the resources Durham CCC have to offer, such as an international sporting facility, unique match-day experience and the opportunity to meet professional cricketers who are excellent role models for young people.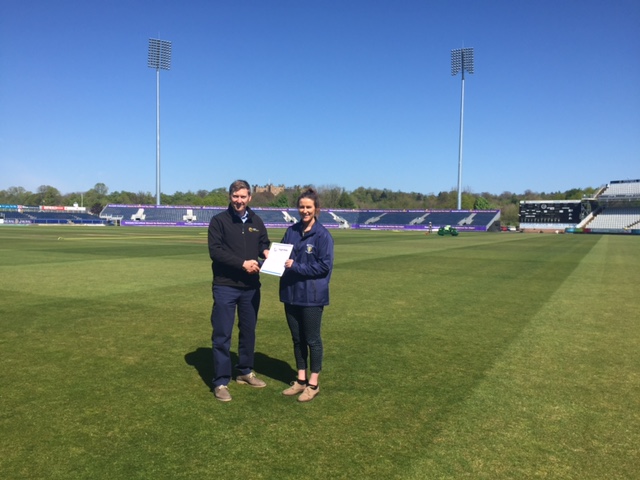 Industry members are essential to supporting High Tide and helping us deliver our range of unique, industry-led programmes throughout Teesside and the North East. These organisations play a vital role in raising aspirations and employment opportunities for young people, while in the process help bridge skill gaps and shape the region's workforce of tomorrow.
Durham CCC is our closest county cricket club and since 1992 it has competed on the professional national circuit. The club have played host to international fixtures involving England, and in September are set to welcome the West Indies for a Twenty20 international. Previous players include former England international Sir Ian Botham, West Indian Shivnarine Chanderpaul and Sri Lankan Kumar Sangakkara.
Durham County Cricket Foundation currently works with Port of Tyne, Esh Charitable Trust, Sunderland University, Cestria Community Housing and Northumbria Water to connect with local communities. For ourselves, Durham CCC are set to offer work experience placements and trips to the Emirates Durham Cricket Stadium.
Achieving 100 industry members is a significant milestone, but we won't be resting on our laurels! Now into our fifth year in operation, we hope to add to our growing roster of businesses, aiding growth, development and our programme offering for young people. We're extremely proud of our industry members and are genuinely grateful for the support they provide. Without them, our work over the past five years would not have been possible and the opportunities provided to young people would not have been delivered.
The 100 businesses to have helped us on our journey so far include high profile and international organisations such as Middlesbrough FC, Barclays, Emirates, Nissan, P&O Ferries, SABIC and Virgin Trains. There's also a range of nationally and regionally known firms such as Boots, PD Ports and MPI Offshore, as well as local start ups like The Stottie Company. Here's to the next 100!
If you're interested in joining High Tide as an industry member, or would like to more information on the programmes we offer and opportunities we provide, please get in touch.
Back to News